Last Saturday I posted about sobering article in The Guardian titled 'Climate change is here now and it could lead to global conflict' on our facebook page. Perhaps even more interesting was to follow the huge number of comments left by the public, 1419 at last count. It struck me just how much 'heat' some of these comments and highly polarised debates generated, pitching naysayers (it's just weather!) against doomsayers (worldwide collapse) with a heavy sprinkling of black humour and sarcasm.
The bitter taste of what climate change might have in store for the UK certainly has rattled many nerves.
Extreme weather events no longer are a distant and intangible threat which hitherto was side-lined by public apathy, an attitude of 'not here, not now and not us'.
Are the 2014 floods really going to change people's outlook?
This is discussed in a recent New Scientist article by Adam Corner, a research associate in the School of Psychology at Cardiff University who manages the Talking Climate project for the Climate Outreach and Information Network (also as a blog post).
What influential people say – or fail to say – matters
Unsurprisingly, it has been found that some people will remain unmoved as every aspect of the topic of extreme weather and climate change is subject to powerful political, cultural and psychological filters. Crucially, what so called "elite cues" say really matters, especially when they say nothing1. Elite cues are the messages people get from the media, politicians and other high-profile voices i.e. scientists that are understandably reluctant to make simplistic causal links between single weather events and the highly complex dynamics of a changing climate.
I wholeheartedly join Adam Corner in arguing that the climate change debate urgently needs narratives that link ordinary people to the climate change challenge. Extreme weather will have an impact on most aspects of society and will affect us all individually, our families and loved ones. It is high time to discuss – but not through continued polarized debates that create more heat than light.
Everyone affected by the floods need to be heard
People have suffered. People are scared. Some are terrified. Others have a more positive outlook or have luckily not (yet) been affected at all and so might have difficulty to fully empathize. We're all different and have a right to be heard without being insulted or accused.
I hold with Marilynne Robinson2 who states:
"It is only prudent to make a very high estimate of human nature, first of all in order to contain the worst impulses of human nature, and then to liberate its best impulses."
I hope this is remembered in the many forthcoming debates.
Monika
Tweet
thank you for sharing, raising awareness for Emergency Preparedness!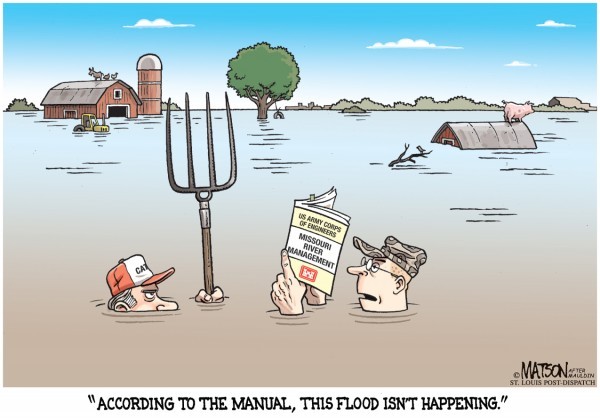 References:
1 Adam Cornor discussing Rober Brulle's analysis of US public opinion on climate change; blog post
2 Marilynne Robinson, Pulitzer Prize winning author, in "The Strange History of Altruism" in the book "Absence of Mind"; i.e. see Guardian book review
Also of interest "Is it time to join the 'preppers'? How to survive the climate-change apocalypse" article in The Guardian, 17.02.2014
For more EVAQ8 blog simply use the right hand navigation. For emergency kits and practical resources use the top navigation. For FREE resources head over to our Preparedness Hub and find out why we use humour. If you like this post, please share it to help raise awareness for Emergency and Disaster Preparedness. Thank you!
Find EVAQ8 on social media, like and follow us!